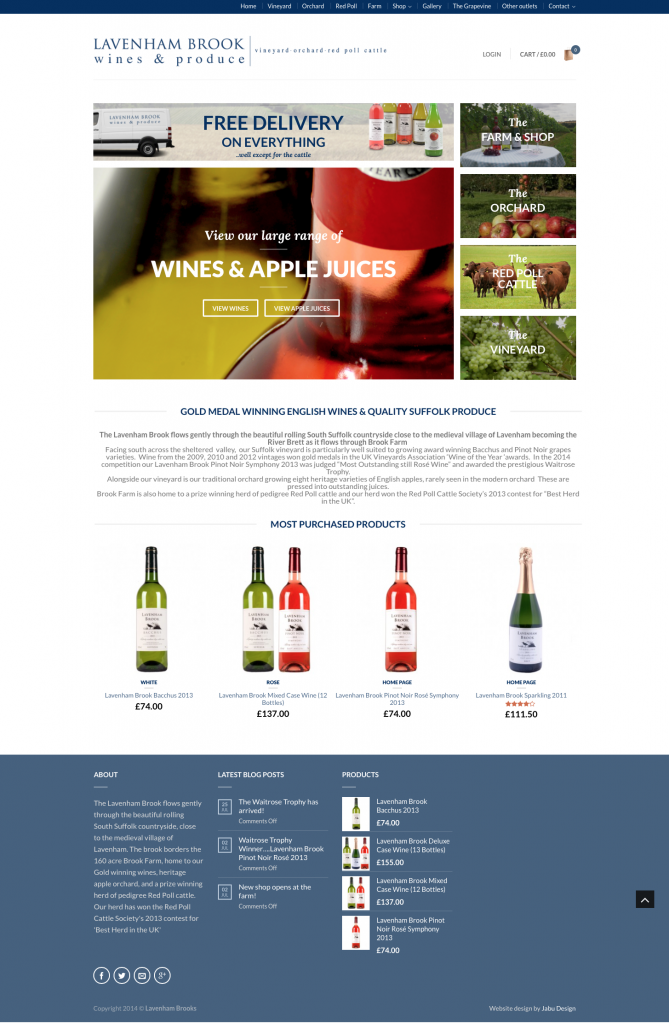 Lavenham Brook, website design Suffolk
Jabu Designs creates E-commerce Website for Lavenham Brook.
Jabu Designs would like to thank Nick and his staff at Lavenham Brook Vineyard, for choosing Jabu Designs to design and develop their new E-com website.
"It's been a pleasure working with Nick and his team, I'm looking forward to visiting the new shop at Lavenham Brook Farm and sampling the apple juice and wines" Mike Pepper, Jabu Designs.
The Lavenham Brook flows gently through the beautiful rolling South Suffolk countryside close to the medieval village of Lavenham becoming the River Brett as it flows through Brook Farm 
Facing south across the sheltered  valley,  our Suffolk vineyard is particularly well suited to growing award winning Bacchus and Pinot Noir grapes varieties.  Wine from the 2009, 2010 and 2012 vintages won gold medals in the UK Vineyards Association 'Wine of the Year 'awards.  In the 2014 competition our Lavenham Brook Pinot Noir Symphony 2013 was judged "Most Outstanding still Rosé Wine" and awarded the prestigious Waitrose Trophy.
Alongside our vineyard is our traditional orchard growing eight heritage varieties of English apples, rarely seen in the modern orchard  These are pressed into outstanding juices.
Brook Farm is also home to a prize winning herd of pedigree Red Poll cattle and our herd won the Red Poll Cattle Society's 2013 contest for "Best Herd in the UK".
Designed and Developed by Jabu Designs, Website Development Bury St Edmunds and Sudbury, Graphic Design Bury St Edmunds and Sudbury & App Development.